Michigan Nursery and Landscape Association's full-color magazine, The MICHIGAN LANDSCAPE™, is published bimonthly for MNLA members, Certified Green Industry Professionals, educators, Legislators, subscribers and numerous other green industry professionals throughout Michigan and beyond.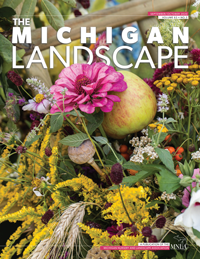 The MICHIGAN LANDSCAPE™ keeps Michigan's green industry informed about nursery and landscape issues on local, state, regional and national levels; trends in the industry; association news and events; research, business, plants and seasonal features; member profiles, equipment articles, classified ads and more.
Display Advertising
If you're doing business in Michigan's nursery and landscape profession, you need to be on board with The MICHIGAN LANDSCAPE™.
Download the Advertising Media Kit & Insertion Order PDF attachment below or contact MNLA's Advertising Sales Coordinator to reserve advertising space in The MICHIGAN LANDSCAPE™ magazine:
Jen Dwyer, Editor
(517) 381-0437
Classified Ads (For Sale & Job Postings)
MNLA's Classified Ads are available in The Michigan Landscape magazine and Online.
Online ads are posted for two months at a time and can be submitted at any time. The submission deadlines for the print magazine are:
January/February issue: December 1st
March/April issue: February 1st
May/June issue: April 1st
July/August issue: June 1st
September/October issue: August 1st
November/December issue: October 1st
Advertising Payment Online